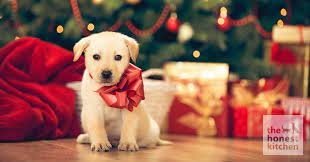 How to Surprise Your Child with a Pet This Christmas
Read Time:
2 Minute, 41 Second
It's not uncommon for children to beg their parents for a pet, especially if their friends have one. Pets can be wonderful for kids not only because they have a fun little friend to play with but looking after a pet can teach your children about responsibility and the importance of caring for and respecting animals. If your kids have been asking for a pet for months, and you have decided that youwant to surprise them with a pet this Christmas, here are some tips to help you achieve this.
Make Sure They Know How to Interact with Animals
It is important to make sure that your kids understand how to behave with animals before you bring one into your home for them to look after. If you have friends or relatives with pets, tell them of your plan and ask them if it's OK to let your kids spend more time with their animals. This way, you can teach them how to behave around pets properly, preparing them to look after their future pet without ruining the surprise.
Organizing a Pick-up Date
If you want them to be surprised with their new pet on Christmas morning, then you might want to try and arrange to pick up the animal on Christmas Eve if possible, or not too soon before that. Otherwise, it might be a challenge to keep the pet a secret from your kids at home! Speak to the shelter or breeder that you are getting your pet from and explain the situation. A lot of the time, they will be willing to accommodate this, but never assume as they might have set holiday hours where they won't be open for business.
Registering the Pet with a Vet
Once you have bought or adopted your pet, you should get them registered with a vet clinic as soon as you can. Speak to the shelter, store, or breeder that you're getting the pet from and ask them for as much information as you can about your pet's age, breed, medication history, etc. This will help you give as much accurate information to your vet to help with their healthcare. If you want to see a good quality= example of an affordable health clinic with options for healthcare plans, easyvet.com is worth a visit. See if they have a clinic near you or if there is one similar in your local area.
Hide the Toys, Food, and Other Accessories
You do not want to give the game away by storing your new pet's food and accessories somewhere that your kids can find them. Consider putting these items in your garage, basement, or another part of the house you know the kids won't go rummaging around in. You might want to set up a bed for your pet here on Christmas Eve so that they have somewhere comfortable to sleep until you surprise your kids on Christmas day.
Pets can be wonderful for children and adults alike, which is why so many families choose to get one. If you have opted to surprise your kids this holiday season after months of them begging for a pet, use these tips to help you pull it off.